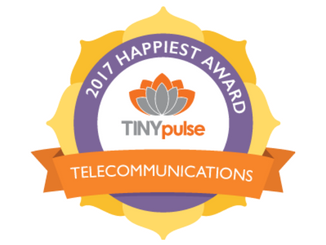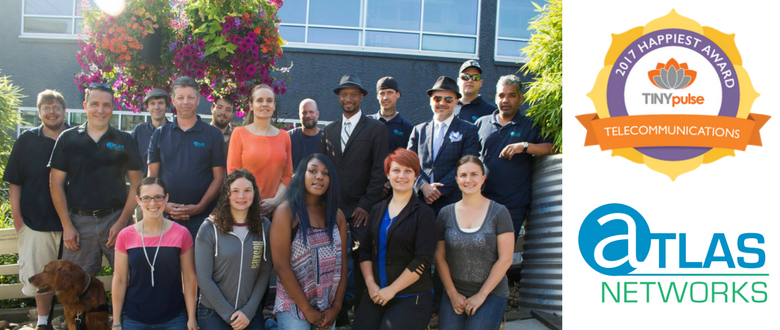 We won an award!
Atlas Networks is the proud recipient of the TINYaward for Happiest Organization in the telecom category! The what? Let us explain. It's a big deal.
Taking the Pulse of Employee Happiness
The idea behind TINYpulse is simple: happier employees. An ingenious software platform founded in 2012 (whose HQ is just a couple of blocks from Atlas Networks), TINYpulse helps thousands of companies foster a culture of happiness, honesty, and growth. This online tool sends employees weekly "pulsings" in the form of short, open-ended questions in a completely anonymous format. The questions are interesting and sometimes bring up difficult responses, revealing the truth about a company's culture by recognizing internal successes, while making known various areas of improvement or weakness. Major corporations such as HubSpot, IBM, Airbnb, StitchFix and Deloitte subscribe to TinyPulse, and Atlas Networks began actively using the tool in June of 2016.
The TINYawards
TINYawards began in 2015 as a way to recognize companies within the TINYpulse network that were finding some serious success using the tool. There are a number of awards given within each category including the "Raising the Bar Award" that focuses on most improved and "Employee Recognition Award" that is given to the company whose employees utilized the internal employee "cheers" aspect of TINYpulse the most. The Happiest Organization Award is given to the company who maintained the highest average happiness score month-over-month within their industry – that's us!
Our CEO, Ryan Maloney introduced the TINYpulse tool to our employees as a transparent and anonymous platform to openly celebrate the company's successes and discuss concerns. Placing it at the top of the agenda at every staff meeting, the question and weekly average is read aloud, and not only that, but every anonymous comment that's made in regard to the weekly topic is verbalized as well.
"Anonymous feedback is a great way to encourage people to speak their minds; either they have something positive they want to say, in which case sitting around the conference room table and reading the responses out loud as a group is a fun, productive way to do so… or there's something they need to say, but it's uncomfortable, in which case anonymity is vital," says Charlie Simonds our Customer Solutions Expert.
We're a small, passionate company comprised of individuals who believe in each other and in the mission behind TINYpulse – to make the place in which they work better, happier, and in turn, more successful.
"Atlas has a large number of highly dedicated and invested staff who get a lot of fulfillment from working here. I believe this impacts the happiness index drastically and the rest of the industry likely does not have this kind of advantage," says Kenneth Howard, our Suncadia Field Technician.
Using TINYpulse, our employees are empowered to lead with solutions and give feedback about what's working and what's not, offering up their own suggestions and recognizing peers for a job well done.
When asked if there was any commonality among those companies who received the Happiness Award this year, Andrew Sumitani, Director of Marketing for TINYpulse commented, "At these companies, employees are led by individuals that understand people are the number one asset to their organization. They are checking in not only on the organizational health of the company but the health of their people as well. Every organization has its own areas of improvement, but being able to measure over time the effectiveness of your actions and find out what really matters to your employees is a powerful thing."
We are honored to receive this award and will remain dedicated to improving the company culture through open, honest feedback and discussion.
Thank you TINYpulse!