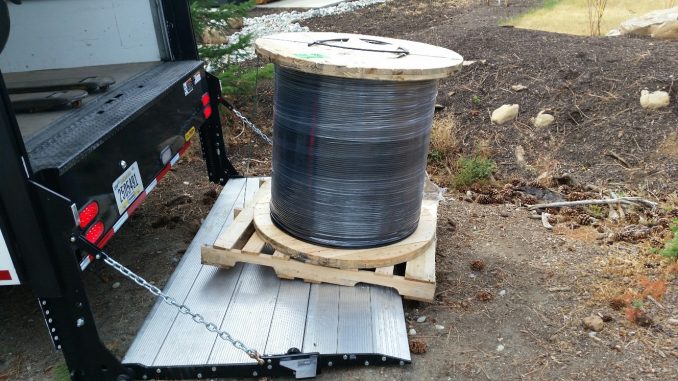 Extensive Fiber Installation Complete!
This Fall, our awesome team of Atlas Networks Field Technicians traveled on-site to the Suncadia Resort for a major infrastructure upgrade.
This large-scale fiber installation went off without a hitch and the work they accomplished is pretty impressive!
Together, they pulled 40,510 feet of fiber (7 miles) underground averaging about a mile per day!
They were able to pull 1,200 feet of fiber at a time through an underground conduit system, vault-to-vault. (Vaults are essentially 4×4 concrete boxes.)
This was project was done completely by hand, underground, with no machinery!
But how?
Our Atlas team utilized ropes and pulley systems to get the fiber from vault to vault. Strings were attached to a balloon and then sucked though the conduit using a vacuum. (A conduit is a tube in the ground that cables run through.) The fiber was then hand thread into the vault using the string. Pretty creative, right?
Prior to entering the underground conduit, thousands of feet of fiber had to be laid down in a figure 8 format. This design kept the cable from getting knotted or tangled before installation. Imagine pulling thousands of feet of cable underground, only to realize there's a knot, meaning everything needs to be pulled back out. (cue shuddering)
Throughout this process, the Atlas field team was very positive and upbeat. Their awesome attitudes made the project enjoyable for everyone on-site.
Atlas team members are finishing up the project this week by splicing new fibers and installing "Omni Taps" (a hub of weatherproof fiber-optic ports) in a couple of new developments. This installation is part of the infrastructure extension happening throughout the Suncadia Resort. As new home construction continues, this project will help facilitate that increase in capacity and new plot development.
Learn more about our involvement at the resort by visiting our website dedicated to Suncadia and Tumble Creek Residents.
Have a question for Atlas Networks? Please don't hesitate to contact us anytime!