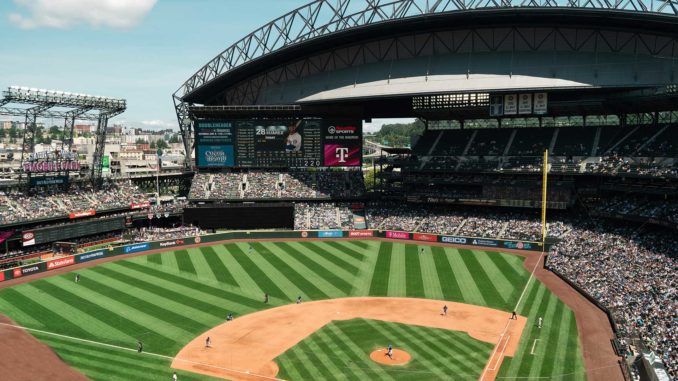 Play ball! Who's excited for the 2023 MLB All-Star Week? The classic event takes place July 7 – 11, with the Mariners hosting the 93rd All-Star Game on Tuesday, July 11! This marks the third time in franchise history that Seattle hosts the Midsummer Classic here in Seattle (1979 – Kingdome, 2001 – Safeco Field).
If you haven't heard, numerous events are taking place during the 5-day event designed for sports enthusiasts of all ages. Just steps from our office in Pioneer Square is the All-Star Alley at RailSpur. Named for the railways that once ran through the area, RailSpur encompasses three historic warehouse buildings in Pioneer Square. Check it out and see the newest mural installations highlighting inclusion, teamwork, youth, celebration, and sustainability. Grab a beverage in the beer garden and wander this unique All-Star art alley.
Also just steps away from our front door is a variety of events taking place in Occidental Square including a Pop-Up Video Game Arcade on July 8-9, 11:00 a.m.-6:00 p.m. both days, Beer Garden, July 8-11, 2:00-6:00 p.m. (21-plus, ID required upon entrance), Pop-Up Roller-Skating Rink, July 8-15, 11:00 a.m.-6:00 p.m., all days.
Hungry? Check out the All-Star Week Food Truck Schedule highlighting some of Seattle's best eats. Plus, enjoy a variety of locally-owned restaurants serving up Pacific Northwest classics.
Check out our All-Star Week Map for tips and tricks when navigating Seattle. The map features local hotels, public transportation stations, sites to see, and local small businesses along with walking and bike paths.
While we're always about using public transportation, we're going to strongly suggest avoiding driving and finding parking on Monday and Tuesday. King County Metro, Sound Transit, Kitsap Transit, and the Seattle Department of Transportation Streetcar will go fare-free on Monday, July 10 and Tuesday, July 11.
"All-Star Week is our opportunity to welcome fans from around the region and world to Seattle – and free rides for all means a safe, easy, and enjoyable commuting experience throughout our city," said Seattle Mayor Bruce Harrell.