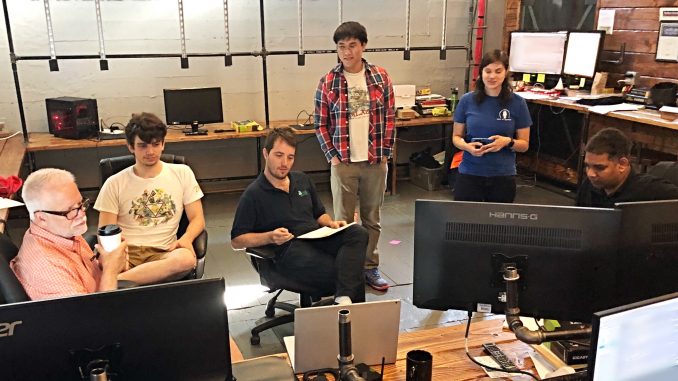 By Alex Brighton and Mingbin Huang
Starting back in March of 2018, Atlas got a shipment of brand new interns from University of Washington Bothell's Interactive Media Design Program! Now over a year later, their internship is finished and we caught up with them to ask a few questions on what it is like to be an Atlas Intern!
What were your first impressions of Atlas?
Alex: When you first enter the Atlas Networks office, the first thing that strikes you is the space itself, everything has a cool handmade aesthetic (because it is), with wooden plank desks and pipes. The steampunky looks give it a character like no other. The surfaces might be a bit more difficult to work on at first compared to what you are used to, but it really brightens up the space, which I will take over a white-fluorescent lit cubicle maze any day.
Other than the physical space, the overall feeling at Atlas is completely different from what you might get in a normal work environment. Working in the same space alongside your manager, and even the CEO, creates a blanket feeling of equality. Upper management isn't hiding away in an office far from us interns, they are readily available; just a quick spin in your rolly chair away.
Ming: My first impressions of the office is that it doesn't feel like a traditional office at all! You can see metal pipes and steel on wooden tables across the whole unit that gives that retro steampunk vibe. Yet it feels right at home when you start sitting at the table under the dim light with a cup of coffee beside you. Coming into the office is a unique experience for everyone that comes through the doors.
My impression of the company and staff is that everyone here is very positive and likes to enable others to succeed. Whenever we interns needed help from anyone in the company, the staff are always happy to work with us. In addition, ever since I got into the company, I saw team members cheering other team members for their success and being recognized in staff meetings. Looking back, this specific aspect of the company also influenced my success in the company in a positive way because it encourages me to work harder and to help others whenever I can.
What was your work like at the beginning of your internship and how did your responsibilities evolved over time? How do you feel that you have grown during your time at Atlas?
Alex: My situation was a bit different compared to the other interns, as I started as the TinyTech while the others were TinyDevs, but I worked my way into a development role over time. My first task included a lot of acclimating to our interior systems until I could confidently do support or troubleshooting for customers. After which I would primarily answer lower level support tickets and help customers troubleshoot, as well as other tech related work like building computers for new employees and getting familiar with networking. As I learned more and became more confident in my work, I could very actively feel myself improving, and becoming more confident in my work. Eventually I started asking for more work, or taking up tasks on my own. After working support for some time and pushing repeatedly to be assigned a development task, I was assigned to an actual development role; the lead on remaking our website in fact.
As my blind stumble through this new responsibility gradually progressed into a brisk walk, I could feel my own confidence and independence increasing. I gained more and more ownership of the project, all the way up to the point where I could be trusted to work on and manage content and design for our site on the production server confidently. Throughout the course of my internship at Atlas, I have learned how to receive a task or problem, and with confidence, break it down, properly delegate tasks, and translate updates between development and business so that both departments can work together smoothly. I still have a lot to learn, but the discovering the basis of these skills is the beginning of something I will be constantly honing throughout my career. The environment at Atlas really enabled me to learn these skills which might normally take years to be able to begin developing elsewhere.
Ming: When I first started this internship, I was fairly new to the technologies of the web. I started this job by getting hands-on dirty with the web frameworks that we were going to use for our projects. I started off doing smaller projects while working closely with and getting mentored by our Lead Developer, David. As time progressed, I got more proficient with the frameworks that we were working with and improved my own skill set, which later lead to my first big project, the Building Finder and Merlin (our frontend ordering system). Working on the Building Finder and Merlin was truly a unique experience for me because it was a fresh project that I got to do from the ground up! By going through the development process, I learned how to understand business requirements and designing with changing requirements. I learned how to deconstruct a problem and design an experience or solution for it.
Later down the road, we interns also got to work together and started to plan for the rebranding of the company website. It was awesome getting to work through the site as a team and experimenting with our ideas. This April, we finally launched our new rebranded site along with the new Building Finder! I felt there was still so much to do and learn, but I was proud and grew more confident because of all the skills that I was able to learn and use to finish individual and group projects and felt that I finally started to make a real difference in the company.
Is there any specific moment in your internship that stood out to you?
Alex: There was one moment, a week or two after our new site had launched; I was messaging our lead developer David about some work I wanted to post to our site. I asked him if he could "bounce" the server (restarting it momentarily) as usually that is something that carries a quite a bit more risk if something goes wrong, and he replied "go for it, I trust you". It seems really simple, but it was a pretty big moment for me, because right then I realized, oh yeah, I am competent and responsible enough to be trusted with this caliber of work and risk. It really gave a big boost to my overall confidence in my work and myself. Sometimes the smallest of things can lead to big revelations.
Ming: Oh boy, there are just too many. Through if I have to choose one, I would say my first demo presentation of the Building Finder with Ryan Maloney, our company's CEO, was certainly one of them. I mean, it was daunting to me at first when I was told that I would have to present my work to the CEO of the company! What made that meeting special was how quickly it went from just me shakily presenting the demo to the CEO of the company on to be instead, working along with him by using his insights and experiences with our customers and how the company functions as a whole to give additional feedback and ideas that was previously unknown to me. We were all excited and energized as wild ideas and concepts started to pop up for the rest of the meeting! By the end of the meeting, we were able to generate a whole list of action item as next steps for the project and me ready to take the project a step further.
What was your favorite part of interning at Atlas?
Alex: That your contributions are recognized. If you did some particularly good work, it is common practice for you to get public recognition in the bi-weekly staff meetings. Your work is always taken seriously and isn't considered lesser or unusable because it was done by an intern (as long as you do well) like it might be at a different company. What you do matters and if you do good work it does not go unnoticed whatsoever.

Ming: You are allowed to try and fail. All the staff approaches ideas with an open mind and if we have an idea or concept that we would like to try out, we are often allow to do so. This allows us to express our ideas freely and unconstrained. Then if the idea fails at the end, it is fine because we know that not every ideas will work and are encouraged to reflect on why an idea failed and see if we still could work with it somehow. For us, how you fail doesn't matter as much as what you learn from the failure and how could we improve from it.
---