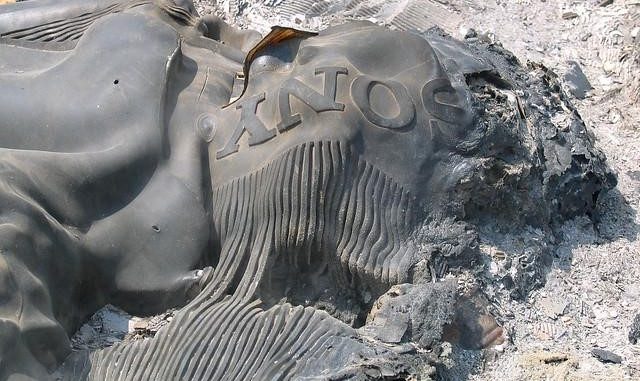 Basel Action Network Is The Seattle Nonprofit Fighting Toxic and Electronics Waste
It's not uncommon for electronics waste to end up on ships bound for Southeast Asia and Africa. The people at Basel Action Network have made careers out of calling out the dishonesty that surrounds the electronics and toxic waste recycling industry.
Tucked in an unassuming Seattle office not far from the shipyards, this non-profit works all over the world. Led by Jim Puckett, the executive director and founder, the watchdog organization acts on the principles of the United Nations Basel Convention, which prohibits the export of hazardous materials from more developed countries to those less developed countries.
In his 25 years of activism, Puckett has set up the framework for how companies should be disposing of electronic waste, creating a program called the E-Steward program, in which a business, big or small, agrees to adhere to certain ethical electronics disposal standards.
While recycling seems straightforward, it hasn't always gone to plan. "Many of the so-called recyclers, they're just shipping it out. We estimated that 80 percent [of electronics trash] was being exported," says Puckett. "People thought, 'oh, I'm taking this to a recycler, this is really great.'" But as Puckett would soon find out, that's not always the truth: "It was going right straight to Guiyu [China]."
On one of Puckett's many visits to Asia, he found the reality of our technology trash problem in the hands of Asia's poorest. "The main occupation there for women was sitting there cooking circuit boards, breathing all the lead and the tin," he says. "There were just thousands of them doing this every day. The groundwater in that area is still destroyed, they have to pipe in water from miles away." What was once a small farming village became the world's electronics dumping ground in a matter of years.
Puckett has made some shocking discoveries alongside the rest of the BAN team. One of their biggest exposés was Kent recycling company Total Reclaim, which once was seen as the pinnacle of their E-Steward program, and of which two of its co-founders were found guilty of conspiracy to commit wire fraud in April 2019.
"We use mandatory, random, clandestine trackers to check all of our [E-Steward] companies," says Puckett. "We also do unannounced inspections, because people do cheat sometimes, as we found out." What they found out would become the largest case of e-recycling fraud in the US.
"We didn't even put trackers at Total Reclaim, they were put into these small Oregon recyclers and the Oregon recyclers sent them to Total Reclaim. We were watching all of this on our portal," recalls Puckett. "We thought, 'Oh, good, they went to Total Reclaim.' Next thing we know they're on a ship going to Hong Kong."
Puckett, on a trip to Hong Kong with PBS for a story about BAN's tracker program, figured he'd do the legwork himself. "I got there and I found all these boxes with their name on it and Total Reclaim Earth Day labels." Once news spread, the federal government and the state of Washington pressed charges.
"We've finally managed to get China to close its doors to electronic waste," says Puckett. But the work doesn't stop there.
They've also taken on ship recycling as a part of their advocacy work. Puckett explains, "Ships aren't as directly a part of everybody's life, but everything comes as cargo." Here in Seattle, these large ocean liners and even cruise ships aren't uncommon silhouettes on our Puget Sound.
"It's probably the most horrific form of recycling, probably even worse than electronics, what happens to old ships," says Puckett. "They'll just re-flag their ship, and then just drive them up on the beach. The very poorest people of the community, they are given the most crude equipment, and they're supposed to go out and take these ships apart." In the process, workers and the environment are exposed to toxic fumes and substances like asbestos. "That's where 90 percent of the ships go," says Puckett.
Their work in this area urges shippers, cruise lines and other businesses to make ethical choices and recycle their old ocean liners sustainably. "There are some good ones down in Texas and we're trying to push them there–at least we have proper laws in this country to protect the workers," states Puckett.
The work Basel Action Network does isn't easy, but it is necessary. "We are the only group that really focuses on toxic trade," says Puckett. "There's so much to upset you if you just think about climate alone. Then, there's plastics. You can't get totally depressed."
From the street outside of their office, Seattle buzzes with people on phones, checking email or talking rapidly. An ocean liner floats on the Sound at the end of the street, now visible with the Viaduct gone.
And for BAN, it's all about doing what we can on personal, corporate, and societal levels to take responsibility for the items we use, produce, and intend to recycle. It's as much about sustainability as it is people. They make it easy to find ethical, non-exporting recyclers and refurbishers on their site for both companies and consumers.
Recycling the right way can help relieve the burden from the countries and places that didn't create it. And for the Basel Action Network offices, that's all in a day's work.