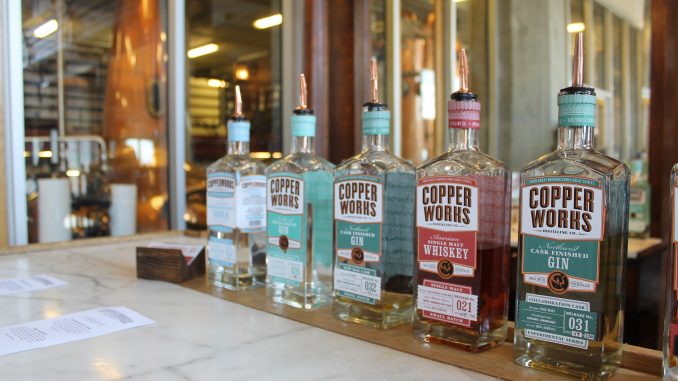 Copperworks Makes Whiskey the Seattle Way
By Liz Knueven
Set just one block inland from the bustling tourist scene at Pier 55 is a Seattle gem, not-so-hidden in plain sight. And while their whiskeys, gins and vodkas sit behind the counter of many a local bar, Copperworks Distillery's spirits have found a unique home at the corner of local culture and distilling tradition.
Copperworks takes an ultra-localized approach to making their spirits, and creates something unique. While Co-Founder and President Jason Parker hails from Kentucky, his whiskeys are purely northwest. From their distillery's unique location to the local flavors and sourcing that goes into nearly everything they produce, Copperworks makes spirits with a unique Washingtonian twist.
A New Distillery Built On Years of History
The distillery inhabits the building that was once home to Pacific Net and Twine, which manufactured supplies for the fishermen who docked at the pier across Alaskan Way. Built in 1918, it's now a national historic landmark and home to a good majority of their operations.
"We got the keys on April Fool's day with the intention of making a small brewery to feed a small distillery," said Parker. "We ended up making no brewery, and a large distillery." Even though brewing was the initial plan, they've forged relationships with other local brewers like Elysian to get the beer needed to feed their stills.
Parker and his relatively small team produce an impressive volume from this distillery, a space organized neatly with towers of barrels lining the walls, surrounding towering copper stills. Each of these barrels and stills is hard at work infusing their products with a flavor that could only come from them.
This year, they'll produce almost 200 barrels of spirits, or about 5,000 cases – 10 times what they produced in their first year in 2012.
Local Supplies Make All the Difference
Very few places in the United States have as potent of a local flavor as we do here in the Pacific Northwest. While that's one of the things that makes Seattle a lovely city, it's also something that gives Copperworks the opportunity to craft spirits unlike anywhere else.
"Consistency is the arena of the big guys," says Parker. "It's repeatable, and you can get used to the same recipe." Copperworks aims for a whiskey that's uniquely delicious in each bottle, partnering with local farms to create single variety, single vintage, single farm spirits.
"We don't think about Jack Daniels the way we think about wine," he says. But, he explains that a whole new world of flavor opportunities open up when you begin to consider whiskey as such. "In order to make it better, you have to use what's good this year," citing that the variety is what gives each bottle the opportunity for something different. "We're really going for flavor," he adds.
These ingredients come together to make something that's unique with each sip. "Our profile is sweet, malty, and–I kind of hate this word because it's so overused–but smooth."
Parker finds that there's something different in each whiskey. "They vary from tropical fruits to coffee and dark chocolate," citing the beauty of buying local and combining small batches to preserve and enhance flavors. "I like interesting," he says.
The Art and Science of Spirit-Making
Copperworks makes four varieties of spirits in total. And with every vodka, gin and whiskey they produce, there's both creativity and rigid science involved.
Copperworks make a unique cask-finished gin, something that not many other distillers are crafting. "We add the gin to an old cask or a new cask and let it pick up that flavor," says Parker. This process gives the gin a warm color and flavors not usually found in other gins.
It's one of the more creative spirits to come out of Copperworks, and the kind of thing where every bottle is different.
Tasting is Believing
For the distilling team at Copperworks, it's all about the flavor. And there's no better way to get to know their whiskeys, gins and vodkas than sipping them right next to the huge stills where they all started. With a large, open tasting room just steps away from the pier, Copperworks offers tasting and tours for both the casual drinker and the aficionado.
Copperworks also takes their spirits on the road! You can visit them at the Copperworks booth at Proof Festival at Fremont Studios this summer, on July 13th, if you want to try their lineup of unique spirits.
Copperworks captures all the things that we love about Seattle in a shot glass–from our love of all things local to our taste for the unique. In true west coast fashion, it's all about making it your own way. But at the bottom of the glass, it's about making something delicious – however you like it.