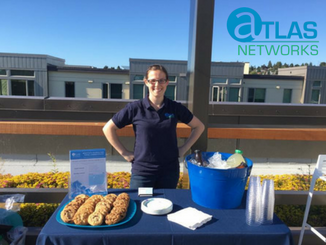 Question: Have you ever been to one of our customer service events?
Throughout the year, we make an effort to host a fun event at all of our residential apartment and condo complexes in Seattle and surrounding regions.
Here are a few examples of different get-togethers that took place this year around the city.
– Complimentary Coffee Cart at Terry Denny, The Central & Stencil, and Continental House
– Wine and Cheese at the Prudential Building and Studio 7 Apartments
– Cinco de Mayo Celebration at The Viktoria
– Game Day Watch Parties at Stadium Place Apartments and the Maverick.
Just to name a few!
All residents are always invited, whether you're an Atlas customer or not. We don't discriminate. We also love partnering with non-profits and property managers to bring awareness and drive attendance towards important causes. For example, last Fall we partnered with Pillar Passions and Folds of Honor to host a dollar drive in conjunction with one of our complimentary coffee hours at The Corydon Apartments.
These events are a lot of fun. And sure, from a business perspective, they don't hurt either. We want people to know that our high-speed, affordable internet service is available in their building – but that's not why we do it.
Community Building
Have you ever lived down the hall from someone, but never even said hello? We want to bridge that gap. People come to our events, grab a glass of wine, and start a conversation. Remember those? They get to know each other and leave with a few more neighbor's names under their belts.
All the Smiles
It feels good to bring joy to others, and that's what events like these do. No obligation, no pressure, just show up, have some snacks, and say hi. Pretty simple, but it makes a big impact. We have the best conversations with residents over a cup of coffee and doughnut and hope that they find the experience as rewarding as the team hosting it.
 Real, Human Connection is Great!
Atlas Networks is comprised of a small team of professionals who work very hard to make sure all our customers are taken care of. The same people you speak with on the phone, host and attend all our customer service events. At the next event, approach an Atlas representative and just say your first name and what residential complex you are part of – I bet they can guess your last name. Don't worry, we don't hire creepers or anything, but we do know our customers very well and strive to go above and beyond in everything we do.
The staff at Atlas Networks values human connection, and we think you do too. That's why we host game day watch parties, wine and cheese happy hours, and morning coffee carts. Come meet us, ask questions, get answers, learn about what we stand for – and make some friends within your building. In 2018, we plan to host events on a quarterly basis at all or most of our residential complexes. Please join us!
If you know that Atlas Networks is available in your building, but we've haven't hosted an event yet, please give us a call!  Let's get to party planning.