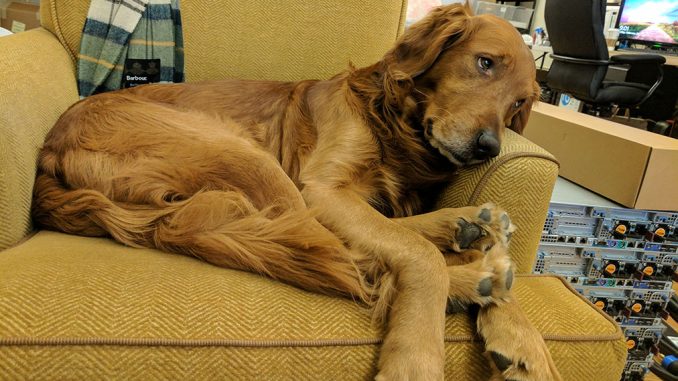 Introducing the most beloved member of the Atlas Networks team, Marmot Maloney! His job? Chief Morale Officer – and he takes the job very seriously.
"When he isn't here it feels like something is missing," says Elizabeth Taylor, Project Coordinator, "he's so happy and calm, I love the positive energy he brings into the room."
It's true, having a pup in the office is an instant mood elevator. Research shows that office pets naturally reduce stress levels and increase productivity. Taking short breaks away from the desk to spend time with dogs helps people feel refreshed and take a mental breather. "He reminds me to take a break and enjoy the simple things in life," says Katt Maloney, Accounting Manager and Marmot's proud mom.
A purebred Golden Retriever, he became part of Ryan and Katt's family in May 2011. Well-natured and just plain fun to be around, Marmot accompanies Ryan and Katt to the Atlas Headquarters daily.
"Marmot truly is Chief Morale Officer," says Andrea Eisenberg, Customer Service Supervisor. "Almost everyone takes the time to stop and pet him; he's unifying and has a way of melting the stress away."
If you ever pop into Atlas Networks headquarters to say hello, be prepared for a friendly dog to be the first one at the door to greet you.
"He's the friendliest, most carefree soul in the office!" says Michael Quezada, Atlas Install Technician.
If you're thinking about introducing a pet into the office place, we would highly recommend it. Marmot has helped us become closer as a team; he encourages us to take some time out of an otherwise hectic day to enjoy the kind and gentle disposition of our four-legged friend.