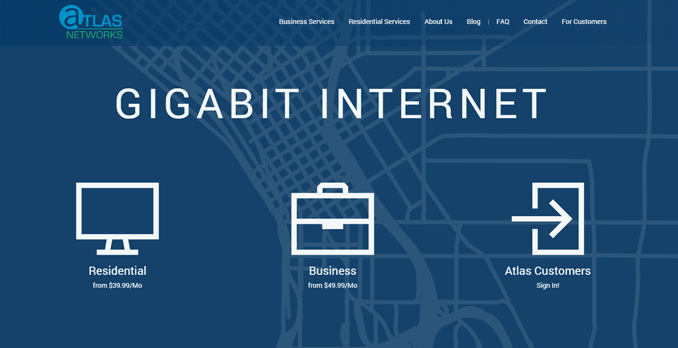 Our new website is here and built just for you.www.gigabitseattle.com
Atlas Networks is excited to release a new and improved website that makes customer interaction easier than ever before.
With clean lines and a user-friendly interface, learn more about the services we offer and how Atlas can help you get connected fast.
Our New Website Features
Detailed descriptions of internet, telephone, and television packages customized for:
– Multi-dwelling units such as apartment complexes and condos
– Marina friendly options for live-aboard residences
– Specialized packages for businesses and office buildings
– The Atlas Cafe Express package tailored to restaurants, coffee shops, and public spaces
– Permanent and temporary connection packages for hotels, event centers, and public spaces
Learn more about technology trends and how Atlas really works with our new blog.
Through this interactive platform, we will publish posts that feature:
– Worldwide, national, and local technology issues and how they impact you.
– Posts sharing how we operate as a company and what being a local service provider means.
– More technical explanations of our internet and telephone service (like WHY we are cheaper than other providers and HOW we do what we do.)
– Community engagement posts that highlight the great things our customers are doing in and around Seattle.
– Comments and discussion threads will be welcomed and encouraged!
An updated FAQ Section
We've revamped our FAQ Section FAQ section to be more informative and helpful. In it, we've answered questions about:
Billing (process, cycle, accepted forms of payment)
Support (how to use the customer portal and get your questions answered fast)
DirecTV (how to get DirecTV service through Atlas and seek additional assistance)
The Installation Process (how long it will take and how best to prepare your space)
Additional Website Features Coming Soon:
Selecting the right internet and phone package can be complicated. Atlas wants to simplify that process for you with the package wizard. This application will help clients identify their business and residential needs in a user-friendly fashion, providing instant feedback.
With smart phones in the hands of many, high quality photos of our beautiful city are everywhere. We plan to showcase user-submitted photos of Seattle on the website, crediting the photographer. Get ready to share your artistic side with the Atlas community soon!
Don't Forget About the Atlas Customer Portal!
Seek assistance quickly and stress free using the Atlas customer portal. Go in and issue/manage tickets with the click of a button. You can also pay your bill online, view your ticket and billing history, as well as modify any Atlas services you receive. Our goal is to always be available and responsive to your needs, the Atlas customer portal helps us streamline that process and get you back on track without breaking a sweat.
Please welcome the following buildings to the Atlas Gigabit Network!
Burien Town Square Condos