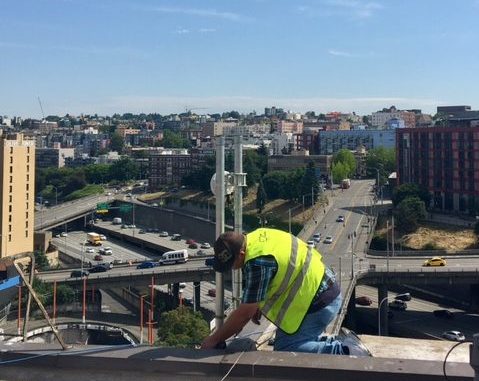 Standing on top of the Paramount Theater in the early summer, enjoying a 360-degree view of our gorgeous city, was a personal privilege. I was amazed by the combination of old statuesque buildings and sleek, modern skyscrapers that surround this iconic space. Seeing the city from this perspective was special – and while it may have been unique to me – it was just another day for Atlas Networks' Install Technicians, Chad Cameron and Michael Quezada.
"Rooftop views are the best part of the job," says Chad. "Though it can make your heart beat a little faster, we truly get the best views of the city."
Boots on the ground with Atlas.
Providing commercial, industrial and residential facilities with access to high-speed Gigabit internet is no easy task, and while it's certainly a team effort, our Install Technicians play an incredibly important role right from the beginning. Atlas installation technicians spend their days installing the infrastructure that runs our metro-Ethernet network. This includes installing fiber optic cabling, microwave point-to-point radios, and structured wiring in buildings to connect our customers. "We've installed wll over 400 rooftop radios across Seattle," says Chad.
Once the installation is complete, Atlas technicians need to ensure a strong signal is present between radios on proximal buildings. To do this, one installer stands on top the original (upstream)building's roof and the other stands on top of the building they are "turning up" (downstream). At the same time, an Atlas Network Engineer participates in a 3-way call between both installers monitoring the radio signal between buildings and advising the techs on slight radio adjustments to secure a strong and stable connection.
This is a delicate process, as technicians need to get the beam just right and avoid other buildings, especially those that may act as a mirror, reflecting the beam back to the original radio. "This process can take anywhere from 15 minutes to several hours depending on the complexity of the space and project," says Chad. It's like aligning the tips of two pencils from hundreds of feet to several miles apart.
On top of The Paramount
The priority with today's project was to add and align a new radio on top of The Paramount and get a new Atlas building (located on Minor Avenue) online. This required the install techs to clean up and label the buildings existing low voltage cable, check the existing mast condition for quality assurance, replace and older model Atlas building router with a new higher-performance router, mount a radio to a new mast configuration, and align the radio signal between buildings. All-in-all, the project took about 5 hours to complete.
The sky's the limit.
I was grateful to visit them on top of The Paramount, a 9-story low-rise building downtown (I'm afraid of heights!) and enjoyed the view. Keep in mind, I spend my days writing articles, blog posts, and handling our social media accounts so it was a bit of a shock to experience what my coworkers do daily. For Chad and Michael, that was peanuts. "I love heights," says Michael, "but I will say I feel more secure when there is a barrier or half wall built around the perimeter of the roof. Sometimes there's just a small lip around the building and that is freaky – we pull out the safety harnesses in those scenarios."
Imagine being rooftop on The Mark, a 48 floor, 660 feet high skyscraper. To date, that's the tallest building Atlas techs have had the pleasure (I use that term loosely) of scaling. "I love not being stuck behind a desk all day," says Chad. "Every day is a new and different task that challenges me both mentally and physically, I enjoy being out and interacting with the people in this city – they are awesome!"