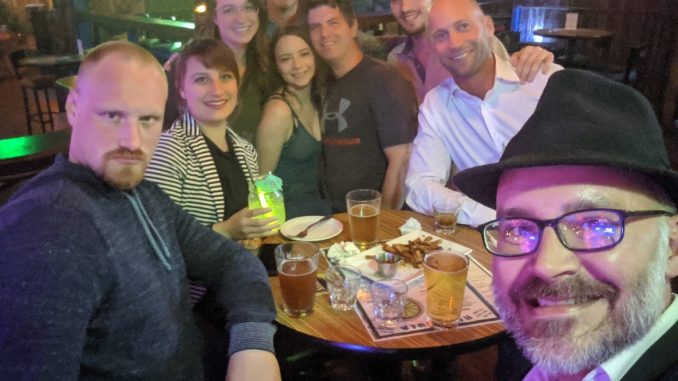 With only 68 days on the job, I definitely qualify as one of the greenest members of the Atlas Networks team. It feels like I've been here forever, and after a bit of research, I believe I have found the reason why – Karaoke. Many people feel that singing in front of others can be…well, uncomfortable, to say the least. While this is true, here at Atlas Networks, we believe that embracing discomfort can lead to exponential growth.
"Singing is found in all human societies and can be performed to some extent by the vast majority of people," study researcher Eiluned Pearce, of Oxford University, said in a press release. "It's been suggested that singing is one of the ways in which we build social cohesion when there isn't enough time to establish one-to-one connections between everyone in a group."
It's not easy to really get to know your coworkers, especially when we're in such a fast-paced environment – it seems like we are always running from one task to the next around these parts! But building social connections is important to us humans. In fact, it's SO important that a recent Forbes' article states, "Employees with friends or social connections at work tend to be more engaged and loyal workers. This is because quality work relationships help build a strong company culture that emphasizes respect, loyalty and trust."
One fateful day back in July, some folks on the Development Team posted an open invite – they were going to have drinks after work at a place on Capitol Hill called Hula Hula, and anyone who wanted to go was more than welcome to tag along. An island-themed bar that is well known for having karaoke 7 days a week, Hula Hula sounded like my kind of place! I used to be a karaoke jockey (KJ=karaoke version of DJ), back when I lived in Oregon, and I LOVE singing karaoke. On that particular day, I was runnin' on empty – but when the manager of the Technical Team asked if I wanted to ride there with them, I couldn't say no. The allure of turning my new co-workers into friends was too strong!
So, I decided I'd just stay long enough to eat some tot-chos (a delightful take on nachos, with a Hawaiian twist) and have a cider. When 9:00 hit, Dan from the Sales Team arrived with a whole group of dapper people, and at that time they started taking sign-ups for karaoke. Alas, my love of singing outweighed my desire to go home – I wound up staying to sing not one but TWO songs. Dan even taught me how to ballroom dance a bit (the man is supposed to lead, which took me a moment to embrace – but once I got the hang of it, I learned to trust his dance skills and follow his lead – before I knew it, I was having a blast!).
According to the Royal Society Open Science Journal, singing with others has a significant impact in bringing people together quickly, especially at first. They conducted a study, wherein seven adult education classes were monitored closely. The researchers found that people who attended adult singing classes made friends faster than students in creative writing and crafts classes.
Not everyone who was with us that night wanted to sing, but you know who wanted to make it a monthly event? Every single person in attendance. Karaoke is a fun (and scientifically proven!) way to get to know your coworkers. "And if you don't know, now you know!"