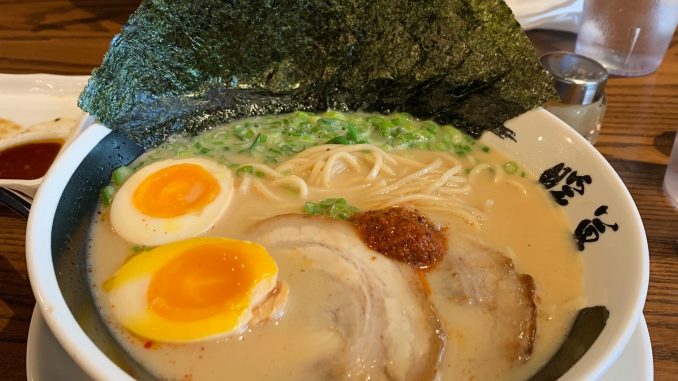 Food. When I think about the kind of food I love to eat and the establishments I visit to enjoy said food, it goes beyond presentation and flavor, although those two factors usually leave the first impressions about any dish placed in front of me. What seals the deal is how I feel in my soul afterward. Whether a full meal or a quick treat, if the food and place leave me happy, satisfied, and feeling like nothing can ruin the rest of my day, there's a great chance I'll be back again. And again.
Ramen is one of my favorite comfort foods, and there are only a couple places in Seattle that have lured me back to their doors for a "next time visit." Ramen Danbo in Capitol Hill is one of those places. Upon entering the restaurant, you are greeted by the servers and cooks with a jolly chorus of irasshaimase – a Japanese phrase that means, "Welcome in!" With its build-your-own-bowl style menu, you can easily enjoy a delicious serving of ramen tailored to your preferences at a price that won't break your wallet.
The restaurant is set up in different ways to accommodate different customers. For an experience closest to one you'd get in Japan, there is the bar, where customers are seated side-by-side in front of the cooks and can enjoy their ramen quickly and quietly with no fuss. There are also tables for parties of 2 to 4 people, as well as larger share tables for bigger parties or for different people who don't mind being seated and eating with strangers. The servers are fairly quick to attend to customers, and if not, a simple raise of your hand will get them headed your way.
When I'm in for a visit and ready to order, I usually get a bowl of their classic tonkotsu (pork bone broth) with firm noodles, fixed with two slices of chashu (braised pork belly), a sprinkle of green onions, a dollop of chili paste, and most importantly, two halves of a perfectly soft-boiled egg. With this ramen build, I find complete zen every time. Other options are available for broth, noodles, and toppings, but I like to keep it as simple and as authentic as possible. Portions are just right as long as you're not a finicky eater or on a strict diet. They also do kaedama, which is an additional serving of noodles for any extra broth you might have in your bowl that you would like to finish.
I visit Ramen Danbo every so often, usually when I need a mood picker-upper, and my visits have never ultimately disappointed me. I recommend this place to anyone who's looking for a decent bowl of ramen and a satisfied tummy to follow. My only word of caution would be to drop in when the restaurant isn't too busy, usually any time before the dinner hours. However, if you don't mind waiting in line for a fix, you can leave your name and phone number with one of the servers/hosts who can call you when it's almost your turn to be seated.
Ramen Danbo has only one location in Seattle at 1222 East Pine Street in Capitol Hill. Their hours run from 11AM to 11PM every day of the week, save for certain holidays, I imagine. If you become a regular customer, be sure to get a hold of a stamp card for some free food upon accumulating enough stamps from your visits.