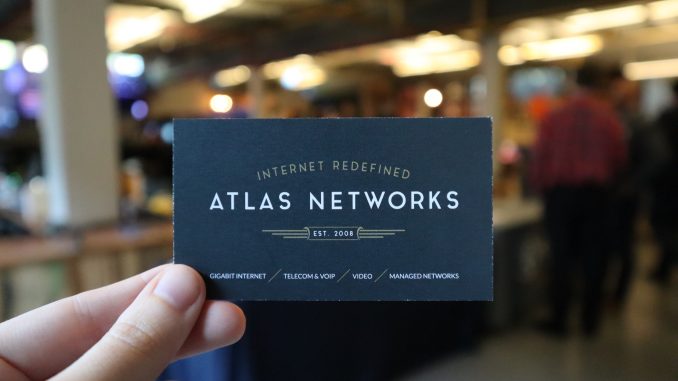 By Liz Knueven
For the team here at Atlas Networks, there is nothing more important than community. Events like our property manager technology event on April 25th put that into practice. Our first ever quarterly event created exclusively for property managers made time for networking and learning, and brought together our customers from across the Seattle area.
Our Residential Account Manager Eric McDougall called the event "fun and casual," but explained that it was a learning event as well. The event also offered property managers a chance to hear new perspectives from speakers and learn how to more effectively integrate technology in their evolving communities. McDougall explains that Atlas delivers on a holistic approach that empowers property managers through unification of multiple technologies in one platform. The technologies encompassed in Atlas' services include secured building-wide wireless access for internal property manage use; security cameras with remote off-site video storage; an integrated managed IP network connecting HVAC, access control, leasing office, engineering and any other connected systems; a centralized managed firewall; VoIP voice services for the leasing office and engineering; analog lines for mechanical/elevators; and more. Tenants enjoy instant-on internet connectivity upon move in, building-wide/common area wireless access and more.
After an evening of drinks, snacks and socializing, attendees heard from two expert speakers. Paul Edgeman, the Director of Operations at property management firm Thrive Communities, helped to break down the ways that technology has changed the game for property managers. His presentation also looked at strategies to leverage technology in management. Kevin Gemeroy, President and CEO at Dynamic Computing, took a look at a more detailed level, letting property managers know more about how his company can help multifamily units keep up with the ever increasing tech demand.
When it comes to property management, the technology, tools and expectations are always changing. Our goal is to help keep property managers on the forefront of what's happening today at the intersection of the rental market and technology. As well as foster a collaborative and social environment.
This event brought together approximately 60 property managers at our company headquarters, located between Lower Queen Anne and Belltown. Atlas is always eager to bring customers and employees together. As a company we focus on investing into those who build our community. We host open happy hours, like this one, on the last Wednesday of each month. Be on the lookout for information about our next event happening soon!
For our first property manager event, our main objective was simply to empower our property management customers to be the best they can be. From hosting events like these, to offering affordable and reliable gigabit internet services, we're helping our customers reach their full potential every day. Because to us, that's the difference that matters.