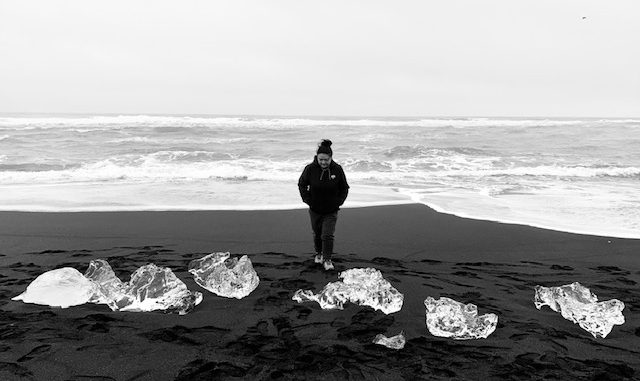 By Christine Agostosa, Inventory Handler
I don't quite remember when the idea of visiting Iceland first came to me, but it was a trip I'd wanted to take for some time. I'd see beautiful photos of its vast landscapes – snow-capped mountains and raging waterfalls against pale blue skies or silhouetted by the magic of the Aurora borealis – and daydream about seeing them in person one day. Not many people I know have been to Iceland or ever talked about it as a destination, and that laid the foundation of its appeal. It was underrated and unfamiliar, and I wanted to see its majesty for myself, unbridled by anyone else's opinion or influence. I just needed to find the time to make the trip. This year opened that door for me, and I grabbed it without hesitation. In February, my friend and I booked our plane tickets and accommodations, and I knew the daydreams would finally become reality.
We landed at Keflavik airport on a rainy, gray Thursday morning. After making it through arrivals and picking up our rental, we found our way to Reykjavík, the capital, where we'd be staying for the night. The city was quiet at 9AM, which was nice for exploring on our first day. The chilly drizzle that greeted us felt a lot like Seattle but still a world away. All of the locals we encountered spoke English, so asking questions wasn't difficult. After a few hours of roaming around, the streets became familiar and that feeling of being lost in a foreign country slowly faded. At 5PM, we checked into our apartment to rest up for the real adventure the next morning.
At around 8AM the next day, we began the most surreal road trip I've ever taken in my life – an 18-hour journey around Iceland, literally. We headed out for the South road, having planned to stop at different points and meet with the stuff of my daydreams along the way. We rode through foggy mountain passes and little sleepy Icelandic towns on a 2-way road. It was like driving through paved parts of Westeros or Middle Earth, waiting to see parades of banner men or hordes of orcs making way through the misty hills. We visited two waterfalls, a couple black sand beaches, and an iceberg lagoon, all of which were freckled with visitors like us, making memories of Iceland's mystique and wonder.
My favorite experience along the South road was our stop at a place called Diamond Beach. Having grown up on a tropical island, this was beyond anything I recognized as a beach – gray and somber without an ounce of warmth. Looking out at the angry waves of the North Atlantic, I truly felt like I was in another world, potentially unforgiving but also a place of calm surrender and beauty if you adjust your perspective. Along its wide black sand shore laid shards of ice in all shapes and sizes that had broken off the icebergs in the neighboring lagoon. They looked like a collection of massive uncut diamonds in utmost clarity. I smiled at the irony that these "diamonds" would eventually melt away to never be seen again. As I paused to take a photo of my friend posing by the ice, a rapid sneak wave crept out of the current to give me a bone-chilling shove downward. All I could do was laugh as I helped myself up from the cold water, even though I knew I'd be sandy and damp in the car for the next 3 hours. Looking back at it, maybe it was Iceland's way of saying, "You'll never forget me. Ever." It worked. We made it to east Iceland by nightfall and checked into a small inn for some rest before continuing our drive at dawn.
At daybreak, we took to the North. It was friendlier and bright, with the sun
shining beside a backdrop of blue sky and wispy clouds. We drove through more rolling hills, passing pockets of geothermal pools and volcanic rock in their finest forms. The highlight of the North road for me was a quaint town nestled in the mountains named Akureyri. It had all the modern amenities anyone could want but was small and far away enough to remain a secret from the rest of the world. If I ever wanted to run away from Seattle, it could be to Akureyri. After lunch and some window-shopping, we refilled our gas tank, said our farewell, and continued our way westward. At the end of our third night in Iceland, we said hello to the lights of Reykjavík and goodbye to the most beautiful road trip I've ever done in my 33 years.
For the remaining days of our stay, we did more of getting lost along the
Icelandic highways and finding beautiful gifts only seen by few. The photos I captured hold no justice to what my eyes beheld upfront, and quite honestly I don't think I could spin up the right words to describe it either. All I know and feel now, being back in Washington, is that I found a lonely sort of peace in Iceland that's helped me further embrace my present solitude in life. Feeling lost and alone sometimes is okay, for in those moments, I'm able to appreciate life and its magic in a more genuine way, one that is raw and completely mine.