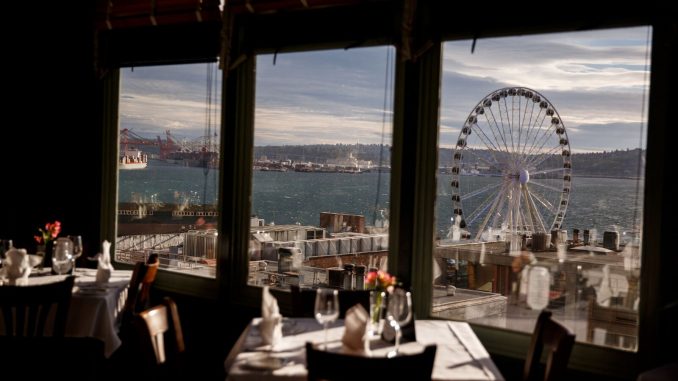 By Chelsea Slocum
Every month, Atlas Networks highlights a valued storefront or service that's a part of our growing network of customers. We believe in supporting local businesses throughout Seattle and the surrounding areas, and sharing information about these wonderful local gems with our readers! If you're an Atlas customer and would like to be featured in an upcoming newsletter, please reach out to us at support@atlasonnet.com
Maximilien Restaurant – A Romantic Parisian Getaway at Pike Place Market
Maximilien Restaurant combines the old-world charm of Paris with the best Pike Place Market has to offer, providing patrons with an unforgettable dining experience.
With a tastefully curated menu based on traditional French fare and sweeping panoramic views of the Puget Sound, Elliott Bay, West Seattle, and the Olympic Mountains, dining at Maximilien is truly a feast for the senses!
Wilfried "Willy" Boutillier, co-owner of Maximilien since 1997, describes the restaurant as, "old school European ambiance." Housed within Pike Place Market, the restaurant is considered a Seattle Historic Landmark, and the look and feel of the space are meticulously preserved to provide an intimate French dining experience for guests year after year.
"During the spring and summer months, our patio view is unbeatable," says Willy, "to sit with friends, enjoying a glass of fine French wine while enjoying an unobstructed view of all that Seattle is known for, there's really nothing better."
The menu is developed with a seasonal flair, but there are a few stand-by favorites worth mentioning, "our Escargots a la Bourguignon is outstanding and guests love our Tournedos de Boeuf bordelaise (Beef Tenderloin)," says Willy, "topped with our signature Foie Gras Maison, is definitely something you have to try."
Maximilien Restaurant is open 7 days a week for lunch, brunch, and dinner. Check them out on February 14th if you're looking for a special spot to dine with your partner on Valentine's Day, Maximilien is taking reservations now for their delicious 6-course dinner menu.
Go here to learn more about this Seattle Favorite.