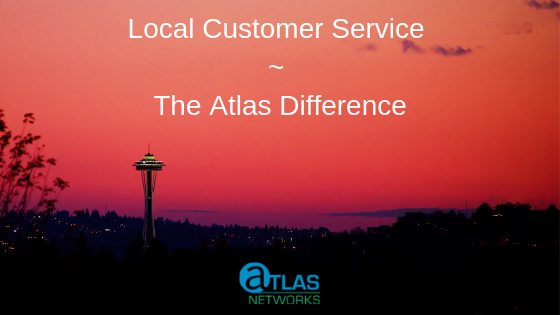 By Andrea Eisenberg, Customer Service Supervisor
Let's face it, the thought of needing to call customer service or support at most companies elicits a groan from us. Great, now you need to wind through the endless phone tree, pressing buttons and repeating "speak to a representative", only to discover that the representative you end up speaking with (usually one of several hundred representatives) has little knowledge of the product, has no real authority to help you, and frankly doesn't care much at all. Cue sitting on hold for the next 20 minutes.
We hate that. You hate that. So we do things differently.
At Atlas, we are laser-focused on anticipating customer needs, exceeding expectations, and making your Atlas experience as efficient and enjoyable as possible. So, what IS the Atlas difference?
We Give A Damn
Our team truly cares. Each member of the Atlas crew, especially those in Customer Service and Support, puts themselves in your shoes to ensure we understand exactly what you need, and why it's important to you. When you're frustrated by a service issue or billing snafu, we're frustrated for you. We understand it's not just dollars at stake for you; it's your time and energy, too.
Here at Atlas, we are proud of the culture we have created, and customer care is at the center of it all. You can see it in our Core Values:
Integrity
Teamwork
Innovation
Impact
Our representatives are empowered to make whatever decisions are necessary to take care of you!
The Local Touch
Atlas Networks is the last independent locally owned Internet Service Provider in Seattle and our headquarters is right here in the Upper Belltown/Lower Queen Anne neighborhood. Our entire staff, other than our two rockstar developers, work right here in our Seattle and Suncadia offices. Our web developers call Houston home, and we fly them up to Sunny Seattle each quarter. Why is being local such a big deal?
Having a small, local team allows us to be extremely flexible, which means installations that are almost as fast as our internet service
Our support team is within walking distance of everyone in the organization, including the CEO. Basically, we all have access to any and all members of the team in order to GSD (Get "Stuff" Done). We all work hard together to make sure that YOU are taken care of.
At Atlas, each of our team members undergoes training on our various products and services to ensure that everyone understands and can speak knowledgeably with you. Have you ever talked with a customer service rep for another company, and realized they have NO knowledge of the product or service you are discussing? They are simply reading off of a script. You will never need to worry about having that experience here at Atlas.
Your support of a local company positively impacts your local community. We appreciate you!
"Good" Is Never Good Enough
We don't settle so that you don't have to either. Our culture is one of growth, learning, teamwork, and dreaming big. Behind the scenes, our development team is always working on new projects, services, and products to further enhance your experience, whether that's with our IPTV service or our customer portal.
Atlas Networks is working tirelessly to pursue greatness and revolutionize the Telecommunications industry (#internetredefined).
The Atlas Difference is real and tangible. Here is what some of our staff and customers have to say!
"I love the customer-facing aspect of my job. It allows me to establish and sustain relationships with our customers, and through these connections, I'm able to bring value to our team. As a customer service rep, I'm usually the first interaction a potential client has with our company, which is an honorable responsibility. Atlas is different because of how much care we put into the customer experience. Through our quarterly events, snappy SLAs, and our cheery dispositions, we really drive home how central the customer relationship is to our culture and brand. We are a company full of happy individuals, who in turn provide excellent customer service because we are in an environment that allows us to do so." – Sarah, Customer Service
"I love being able to resolve customer issues when they occur and troubleshooting is always an interesting puzzle for me. I keep learning more the more I do it. A local business like Atlas has the chance to be much more responsive to local subscribers' needs and be more one-on-one with their customers for new service requests and troubleshooting. My goal is to help our clients have the best possible service experience when they contact us. Simply put, Atlas' customer service team demonstrates in a number of ways that we care about our business and residential clients." – Wes, Customer Support
"After working with MANY Internet Service Providers all over the US, I really appreciate the high level of customer care and clear relationship value. Through and through, their team is sharp, clean and smart. And ask them what makes them different than other ISPs. The answer will surprise you! And if you're in Seattle…SO ARE THEY! This really makes a difference and you'll know what I'm talking about if you've ever had dealings with most national ISPs." – Noel, Customer
"I have never had such a pleasant interaction with a telecommunications provider before. Sarah was so efficient and super fast in handling my request. Keep doing what you are doing is all I can say. I am just speechless with how little internet or connectivity issues I have had with Atlas' service. I am extremely sad to be leaving, but I will make a suggestion to the Board of my HOA to get you guys in." – Melissa, Customer
"My call was answered quickly. The service rep was efficient and didn't waste my time. I received a follow-up email within less than a minute. Plus, I wasn't hassled with someone trying to upsell products or features. I wish Atlas was an internet provider in Gig Harbor so I could continue using you guys." – Kacie, Customer