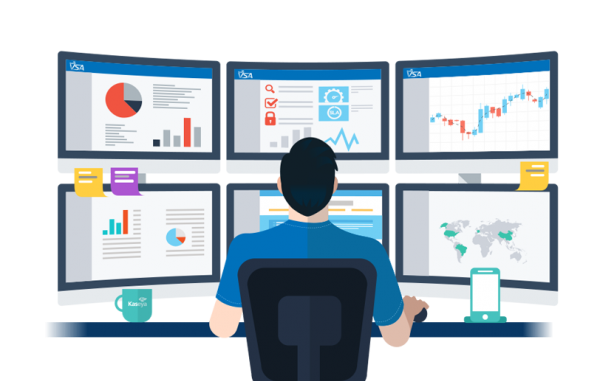 By Nathan Eisenberg, Sr. Network Architect
Like most little boys, at one point, I dreamed of being an astronaut. And, like every would-be astronaut, my dream included a big, high-tech Mission Control center. Mission Control is that unmistakable NASA room full of massive displays covered in graphs, status reports and indicator lights. It is run by specialists who know how to interpret all that data and use it to support the mission. It has been many years since I hung up my dreams of rocket-man glory, but in many ways, the Atlas NOC (Network Operations Center) is straight out of my childhood fiction.
Operating a next-generation network is a lot of hard work. Networks are complex, living things that are constantly changing, and they're subject to many forces, some of which are well outside of our direct control. All this complexity generates massive telemetry datasets. Every device on our network produces log files and statistical data about its operation – from temperature to errors to security and performance data. In addition to those metrics, these devices also have associated qualitative measurements such as RTT (Round Trip Time, or Latency) and packet loss, device-specific metadata like "manufacturing date", "serial number", and "mean time to failure", and even business data like support ticket counts, pending installs, and SLA metrics. While this kind of data pales in comparison to the scientific data that used to be discovered by my spaceships (cardboard boxes and duct tape ARE widely accepted as the best scientific instruments around), it's still far too much to read.
Atlas engineers and developers focus considerable effort on the task of reducing all of our data down into the relevant bits, and notifying the correct people when something goes wrong. This team produces everything from simple graphs, to automated reports, visualizations, and alerting tools that help us understand when something isn't going right. Basically, from a massive influx of information, we're able to generate the distilled concentrate. This concentrate contains the information that we, or our customers, care about most.
Once we have the data, it's time to display it and act upon it. That's where the Atlas NOC comes in! Located in the back corner of our Seattle headquarters, it's filled with LCD displays that show our network status maps, business metrics, alarms, and trend data. Most importantly, our engineers, helpdesk technicians, and the Seattle portions of our software development team all sit in the NOC within direct sight of these displays, allowing easy access to this data. In any mission, the equipment and science and the destination are all important, but it's the people that matter most, and the NOC team is certainly no exception.
When you call with a technical question or need help troubleshooting, you are connected directly to the helpdesk team. Our goal at Atlas is to take the best possible care of each customer. We want to help you avoid the typical experience of explaining your case over and over again with each call transfer. Our helpdesk technicians are situated next to the engineers and in proximity to the customer service team. This allows us to quickly brief one another on the details of a call, rather than forcing customers to repeat themselves.
When something goes wrong, the NOC is our first point of response for Atlas. The Dispatch/Project Management team is located directly next to the NOC. These are the people who coordinate our field technicians when a response is needed. Everyone within the Atlas NOC is ideally positioned to work with the right people, which ensures a rapid response time.
All in all, the Atlas NOC is a busy, exciting place. It is filled with information, technology, and intelligent, passionate people who love what they do. We may not be NASA, but I'm certain that my 8-year-old self would be proud of the Mission Control Center known as the Atlas Network Operations Center.