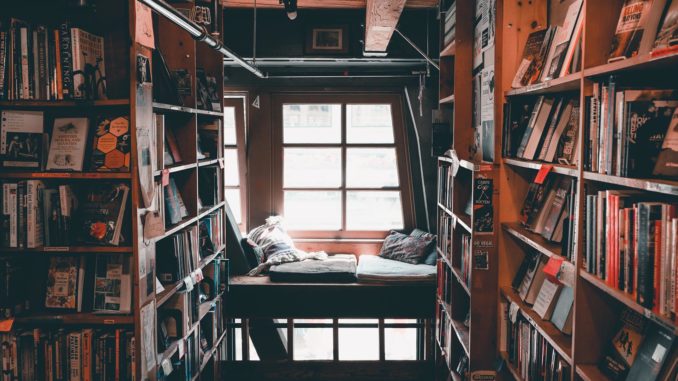 Did you know that today, April 29, is Independent Bookstore Day? Celebrate by supporting local businesses by treating yourself to a tour of these Seattle locales. Whether you're looking for that elusive book of poetry or a sleek title on architecture, these spots have you covered. Plus, Atlas Networks provides services to a few of these stores, as well. That's two spots on your local business Bingo card.
This poem emporium offers over 10,000 titles at its storefront in the Good Arts Building at Pioneer Square. Whether it's nonfiction and historical or speculative and sci-fi, Open Books has you covered. Special bonus? They offer a lovely parlor you can rent by the hour or month to get some quiet time for work (or reading). What could be more poetic than that?
Open Books Info: 108 Cherry Street, Seattle, WA 98104, (206) 633-0811; Wednesday-Saturday 12:00 p.m.-5:00 p.m.
Peter Miller Books offers architecture and design titles, stationery and art supplies, curated glassware, and other unique décor items. Get the full experience by visiting their store, but you can also peruse their website for all your wants/needs/why nots.
Peter Miller Books Info: 304 Alaskan Way South, Post Alley, Seattle, WA 98104, (206) 441-4114; Monday – Saturday, 10:00 a.m.-5:00 p.m.
This bookstore offers a dynamic selection of titles in a stunning historical building. If you're a bibliophile with a penchant for costumes, then check out Arundel's first annual Indie Bookstore Day Costume Contest with $100, $200, and $300 winning prizes!
Arundel Books Info: 322 1st Avenue S., Seattle, WA 98104, (206) 624-4442; Open seven days a week 11:00 a.m.-7:00 p.m.
Hop on the train and take a trip to Capitol Hill to visit this adorable used bookstore and its four resident cats. Meander through the shelves and explore thousands of titles. You're sure to leave with at least a few books and make a cat friend (or two).
Twice Sold Tales Info: 1833 Harvard Ave. Seattle, WA 98122, (206) 324-2421; Open seven days a week 11:00 a.m.-8:00 p.m.
The largest indie bookstore in Seattle, Elliott Bay is just as magical as it sounds. Think sweeping shelves slotted with thousands of books. Budget your time and money accordingly – you could lose track of both here.
Elliott Bay Books Info: 521 10th Ave., Seattle, WA 98122, (206) 624-6600; Open seven days a week 10:00 a.m.-10:00 p.m
This sampling should get you started on your Independent Bookstore Day celebration. Don't forget your reusable tote bag because Saturday, April 29, marks the start of the 2023 Seattle Indie Bookstore Day Passport Challenge. Pick up your passport at a participating bookstore (like Arundel's, Elliott Bay, or Open Books) and complete it within 10 days to win a prize. Now go forth, support local businesses, and add to that TBR pile.
Information current as of publishing date, April 29, 2023. All information is subject to change without notice.